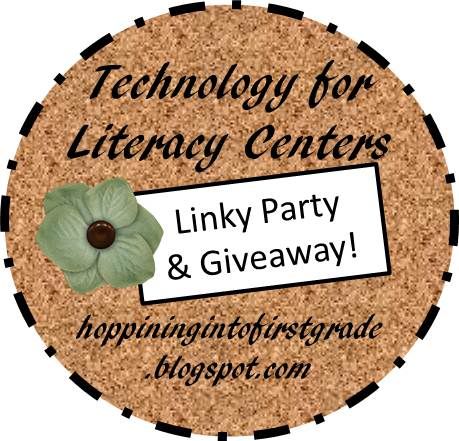 I am joining
Christine's linky party from Hopping into First
to let you know my favorite technology resources. My top technology pick happens to be my # 6 Teaching Item that one lucky winner will win!
1. DVD's from Heidisongs and Teacher Tipster
3. Books on CD loaded to my IPODS for my listening station
5. Smartboard with Smart Document Camera
I'm super excited to tell you about my number 6 giveaway. In my classroom we like to move, dance, and sing. I like to make learning fun. When I need a fun tip or fun idea I know two places I always check first. I follow Heidi at

Heidisongs

and Mr. Smith at

TeacherTipster

. Both of these
talented
educators know how to make learning fun, meaningful and hands on. I happened to find Heidi this year and purchased an entire first grade kit along with her

Sounds Fun Phonics

. Boy am I glad I did! Every morning my students are singing and dancing to either one of her DVD's. They are ALL great because they involve a multi-sensory approach.
If you are not familiar with Heidi's Sounds Fun Phonics, you need to check it out! My kids know their vowel
digraphs
, dipthongs, and more thanks to Heidi's Sounds Fun Phonics. I love that every sound has a song, cute picture cue and movement. Here are some of the sound patterns you will find.
sh-,th-,ch-, -igh, -unk,-ink,-ing,-ay, -er,ir,ur, -ai,-ee,-ea,-oa, oo, oi, oy plus rules Bossy E, Vowel Walk.


You can check out all of Heidi's fabulous products on
Heidi's website
. Heidi is always posting great articles and ideas on her blog and fb page. I am so glad she has agreed to giveaway one of her DVD's to a lucky winner.
Where do teachers go for tips? If you don't know then you should head over to
www.teachertipster.com
. Mr. Smith is so amazing. He is fun to watch and always provides the best tips. If you follow him on fb you will know that on Tuesdays you can expect an awesome tip that you can start right away. His tips are so useful and easy to implement. I love his Musical Morning Routine DVD. In this DVD, you will see his class sing and dance their way through calendar and morning meeting time. On a good day you can touch on over 100 skills. You will be amazed at how your kids will be engaged. My kids love his songs. Currently their favorite activity to do is his tens and ones military routine.
Check out this the p
review below! Your kids will thank you!
To enter to win a Musical Morning Routine DVD and a HeidiSongs DVD please follow the steps below
a Rafflecopter giveaway